With an increasing number of creators and smaps in the company, you have to face new challenges: everyone has their own style, individual approaches and differentiated knowledge. In the end, the smaps are just as different as the people.
To counteract this "uncontrolled growth" and accelerate the creation of new smaps, we recommend making important smaps a company template. In this way, common standards can be established, such as a uniform imprint, links to data protection or an always identical information page with important contact data. This makes the work of all creators easier and at the same time you create a uniformity and higher legal security of the smaps in your company.
Important: This feature is available exclusively for Enterprise accounts. Only the management account included in it is authorized to create enterprise templates. If you need this feature, please contact your smapOne representative.

How does a smap become a company template?

Step 1: Complete important data
If you want to turn a smap into a company template, check it for complete and correct data. For example, add an imprint, privacy notices or other important links that should be included in this template. So every created smap (based on this template) contains these information. Also maintain module IDs and sections so that you can help your colleagues build the smaps in a meaningful way.


Step 2: Set the right check mark
When the smap contains all the values and settings for your template and you have checked them in the preview, release the smap. Then open the detailed view of the smap in the smap administration and activate the "Company templates" function in the "Settings" area.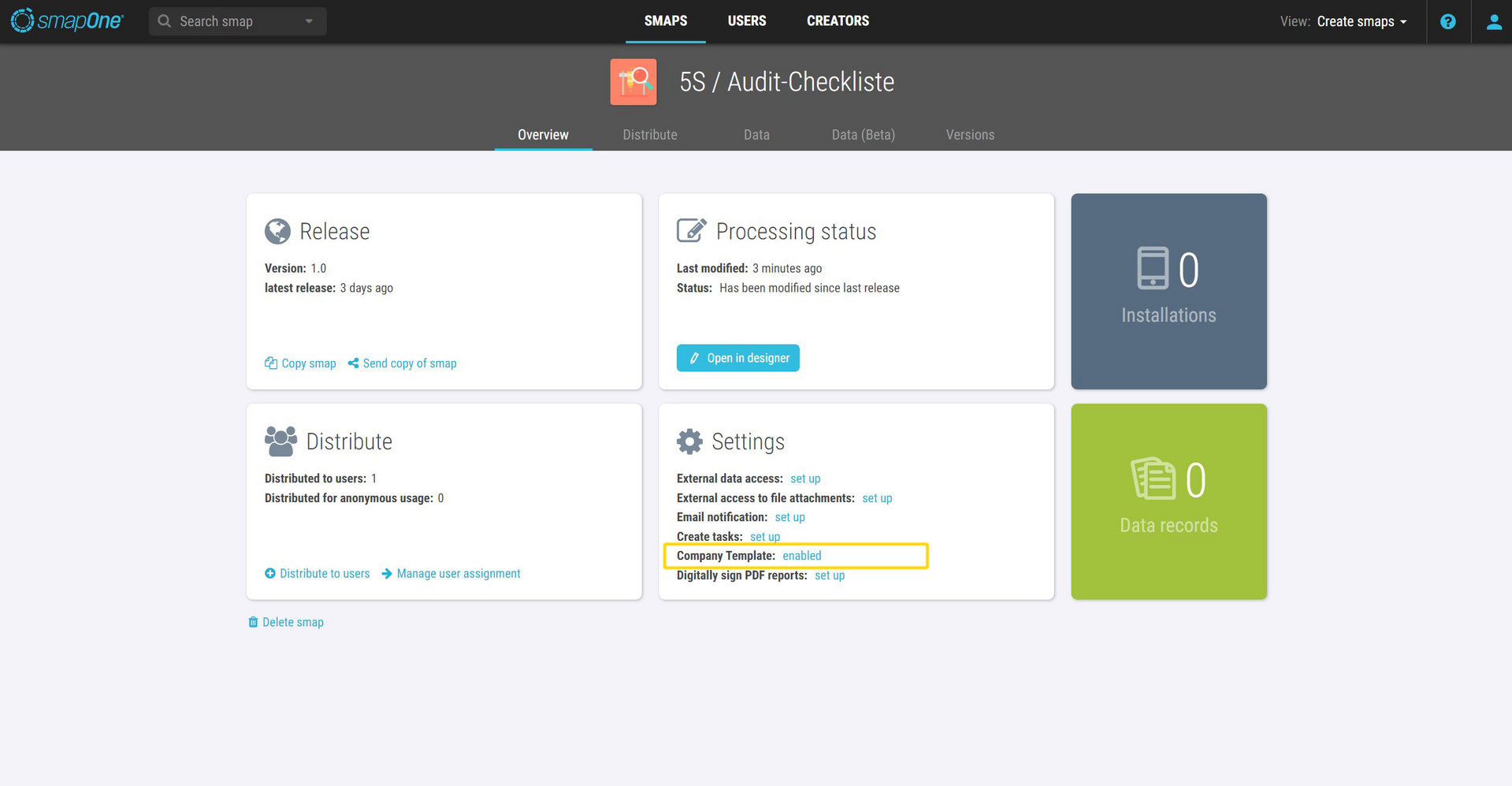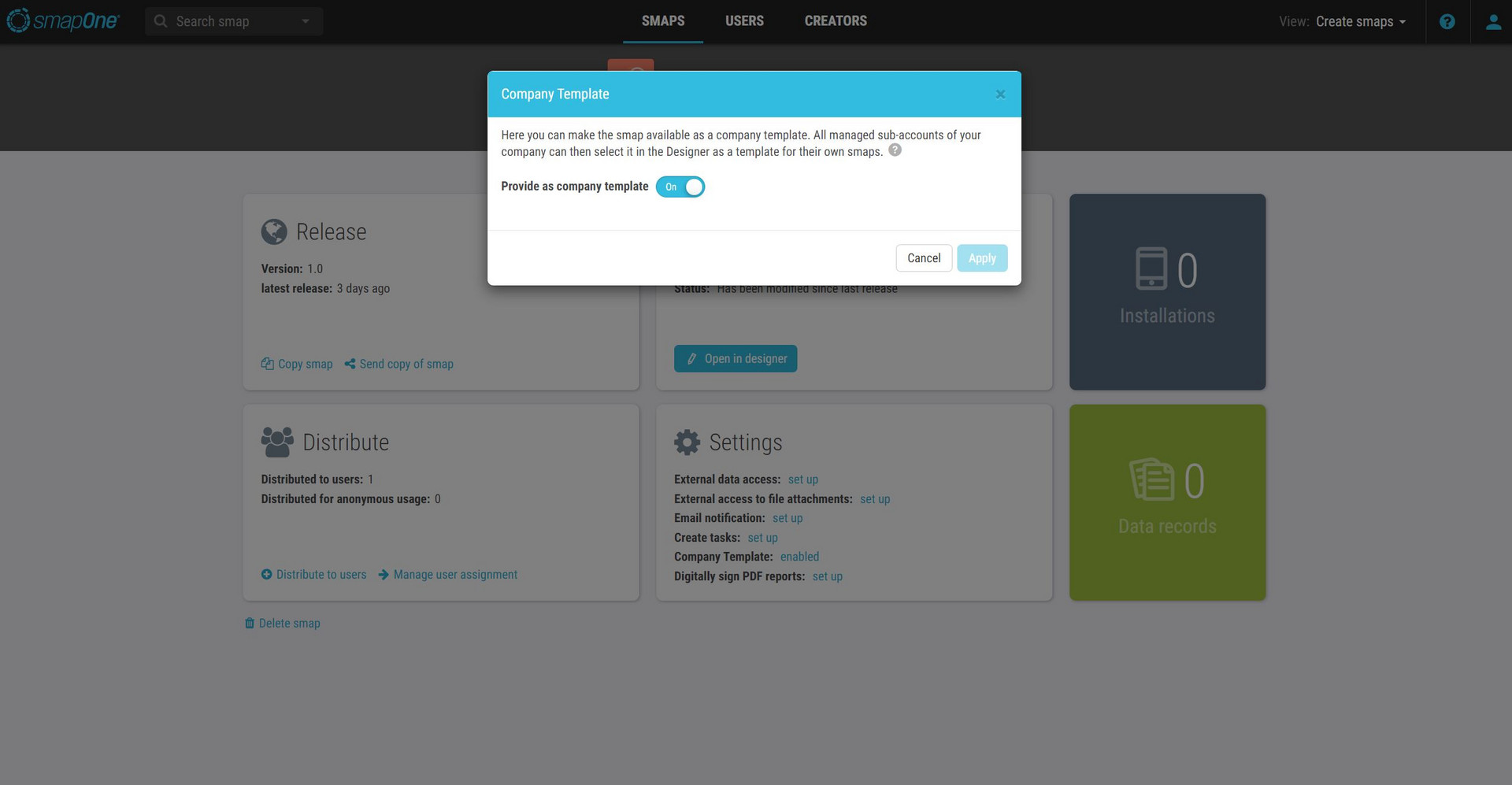 Step 3: Use company template
Every creator of the company can now access this template. When accessing the templates gallery in smapOne Designer, a list of all company templates appears above the already known smap templates of smapOne. Each of these templates can be used by the creator in the usual way to build a new smap. The template itself will not be changed.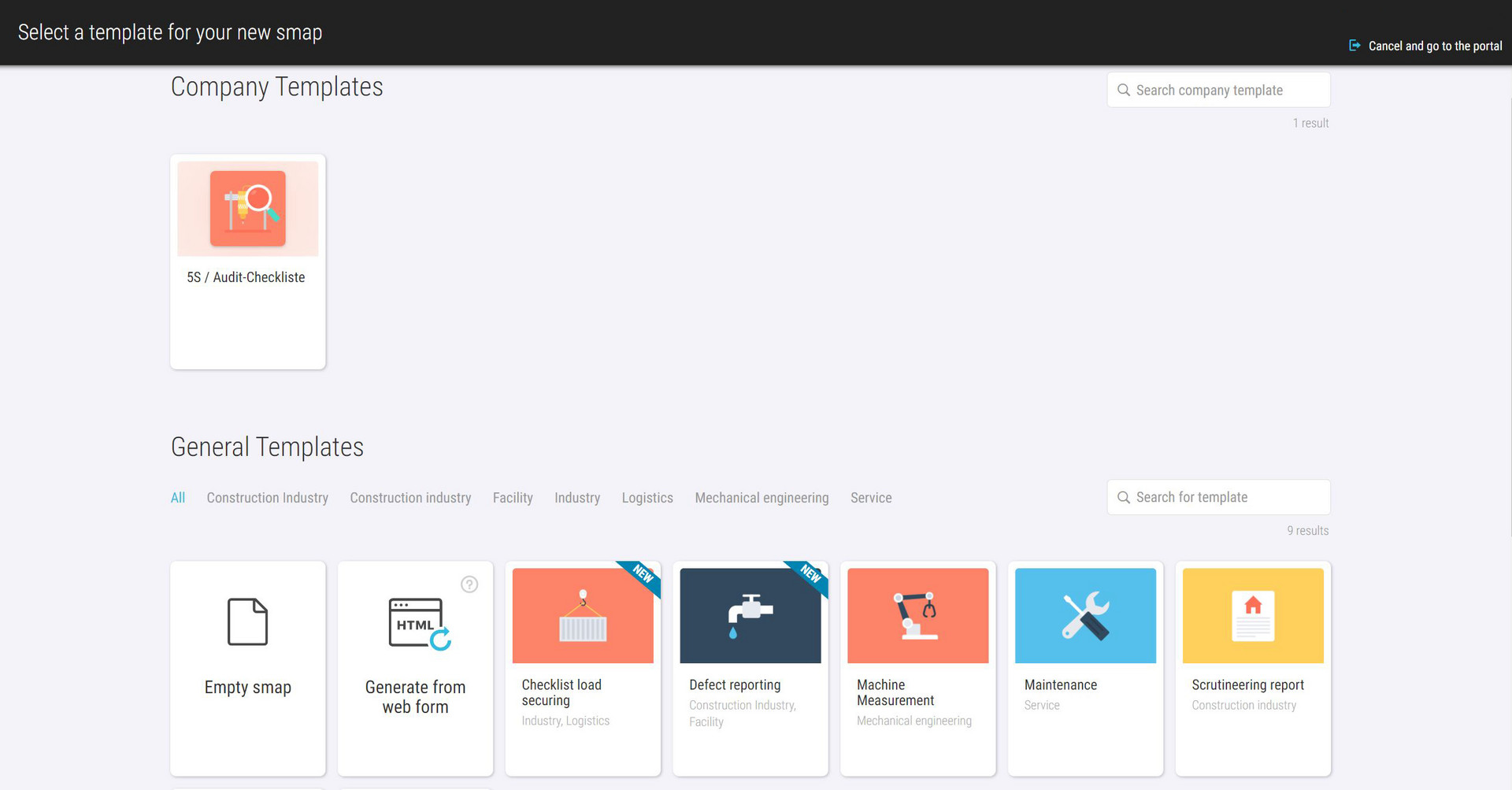 Step 4: Customize the template

You can customize the smap at any time, even after it has been released. However, it is important to know, that updating the template will not make any changes to smaps that were already built based on the old version. Changes to the smap-template , after being released as a new update in smapOne Designer, will only be applied in new smaps that are built based on this new template version.

The icing on the cake: Knowledge about your smap templates from the Enterprise Cockpit.

Do you already use your own Enterprise Cockpit? If so, take a look at the smap browser and discover interesting information, such as:
Which templates are used most often?
Which titles or names are used most often?
Where do most data records or reports originate?
These are just three examples of many more usage details that you can view and evaluate for your company in the Enterprise Cockpit - and that on a daily basis.


Thinking outside the box: new smap ideas from your company
Now you may be asking yourself "how do I get new enterprise templates?". In addition to just using the feature, here are two successful approaches that customers tell us about time and time again.

1. employees suggest smaps

Imagine that your colleagues in the different departments build very good and helpful smaps and you don't know it! What a bummer- especially for other departments that may have similar use cases but are not as advanced with smap building. Define a simple and short process that allows employees to suggest or "submit" smaps as a template. This could easily be done by sending a smap copy to a specific e-mail address, together with an argumentation why this smap should become a company template.
2. initiate a competition
Every month we choose a "smap of the month". Why don't you do the same? Initiate a small competition. Let colleagues or small "developer teams" submit smaps and compete against each other. Whoever builds the best smap enjoys a little "fame and honor" and may receive a small prize. There are no limits to your ideas.
Our experience shows that such unconventional (playful) ways meet with great approval and that you quickly arrive at good smaps, which you can make available to all teams as a company template.
If you have any questions about the company templates, please feel free to contact us at support@smapone.com.